---
---
20 from '20: LSU Tigers Part Two
This is a continuation of our deep dive into the historic draft class of the LSU Tigers. We continue on with the final 10 players from their national championship roster…
Didn't read part one? You can catch up here!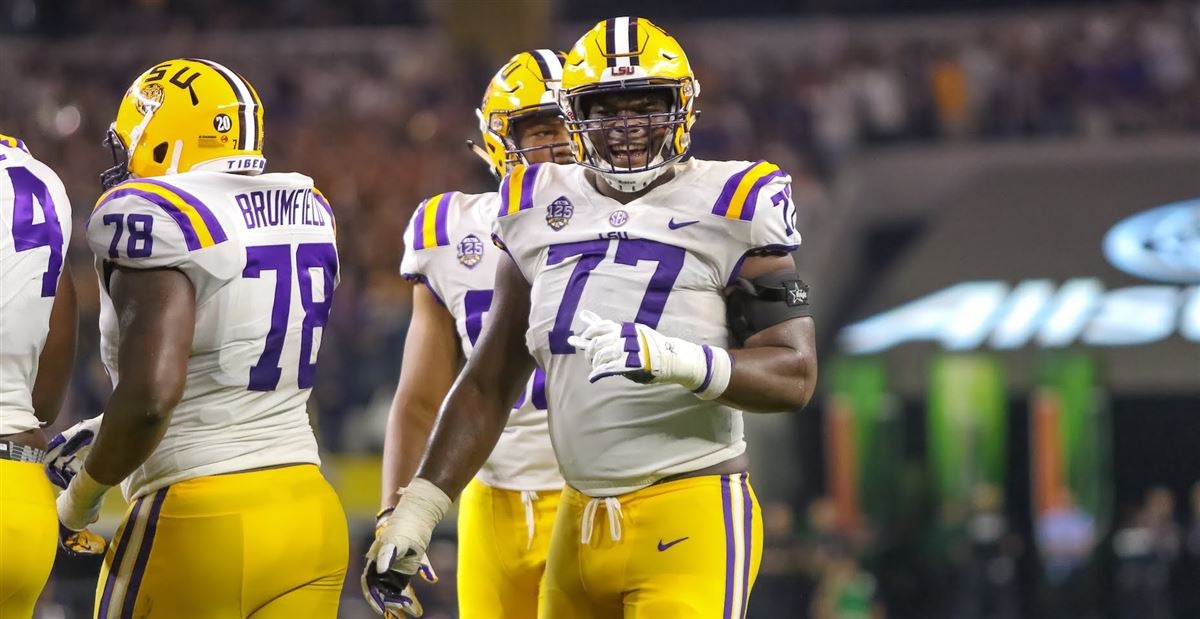 Saahdiq Charles, OL, No.108, Washington Redskins
The player in college: A full-time starter from the moment he stepped on the field as a freshman and was only off the field in further seasons due to a disciplinary. He earned a spot on the Freshman All-SEC team before returning for his sophomore year his dominant self but with a few nagging injuries. In the 2020 national championship season, Charles played his best football towards the end of the year and helped pave the way for Helaire.
Analysis: There's a red flag with Charles as he was suspended for 6 games for a disciplinary. He lacks the power and balance you want to see; this is evident in the run game where his weight shifts and he is easy to dispose of for more experienced defenders. Doesn't know how to punch and his weakness is bulrushes, plus he was never dominant on any of his college tape. Despite all that, he has great movement and his footwork shows some upside to his game while playing with good leverage. With his mobility, he can get out in front on screens and pull wherever a team needs him to, while he is also experienced on an island.
His future in the NFL: Washington needs all the talent they can get and after Trent Williams was traded to Niners it left a potential open spot on their line. Charles could compete for the starting job if any of the journeymen linemen can't prove that they have more upside than the LSU Tiger.
Rashard Lawrence, DL, No.131, Arizona Cardinals
The player in college: Recorded just six tackles across nine games, ending his 2016 Freshman season in the Citrus Bowl, claiming his first career sack on Lamar Jackson. Starting 10 games, Lawrence didn't rack up stats in his sophomore season but he did earn a spot on the SEC Academic Honor Roll and was named a permanent team captain. As a junior, Lawrence had 54 tackles, 10.5 of which were for a loss. Last year, Lawrence was again a leader but missed three games due to injury. He was dominant against the run and was a constant presence in the backfield.
Analysis: Huge, bulky defensive tackle with a great motor and an enviable first step to terrorise some interior linemen. Has great leadership skills and will just as happily go after the QB as he would fill the gaps, eat the blocks and keep the second level clean in the run game. Worth mentioning that Lawrence missed time in 2017 with an ankle injury and then had knee surgery last season. Seems to be no trend upwards in terms of his playing level, and he will need to work on his strength if he wants to progress. Also needs time in the film room to help him process plays quicker and not lose his leverage.
His future in the NFL: Playing next to Chandler Jones will help Lawrence get a few chances at the QB and he'll also take some pressure off Jones not being the only menace on the defensive line. He should have a solid career as a rotational tackle.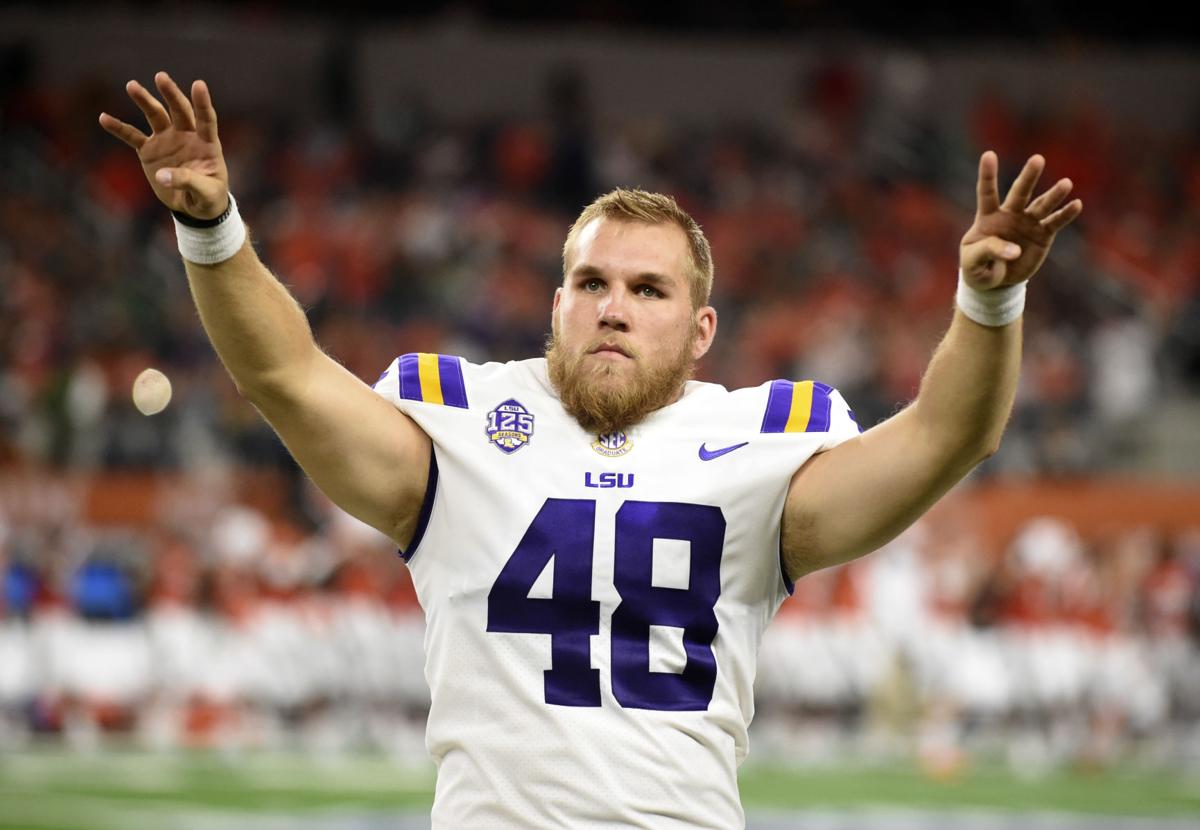 Blake Ferguson, LS, No.185, Miami Dolphins
The player in college: A two-year captain that played in 52 games for the Tigers and collected a total of three tackles made him a very exciting prospect to talk about on day three.
Analysis: I'm not sure what to say. He snaps the ball accurately. He blocks sufficiently. All-round decent long snapper.
His future in the NFL: He could have a 20-year NFL career or a two-month NFL career. A couple of bad snaps for a long snapper could spell the end so it's hard to tell. But if he can stay consistent there's no reason the Dolphins won't keep him for a decade on the cheap.
Stephen Sullivan, TE, No. 251, Seattle Seahawks
The player in college: While playing in eight games in his freshman year he failed to record any stats. Still a wide receiver in 2017, Sullivan improved greatly. logging 11 catches for 219 yards and a touchdown. Then in his junior season, Sullivan doubled his catches and went for over 300 yards. In 2019, he saw action at both tight end and wide receiver but only had 130 yards despite playing in all 15 games.
Analysis: While he has speed he doesn't always use it to his full advantage and is sluggish coming out of breaks. He struggles to find the power to be a competent blocker and is built like an inflated receiver but doesn't have the legs of a tight end. He has good size and athleticism, also praised by staff for his high character.
His future in the NFL: It's hard to say what the future holds for Sullivan, he just needs to start producing and stick to a position and start excelling. He was a top-10 prospect out of high school but I wouldn't expect a storied NFL career.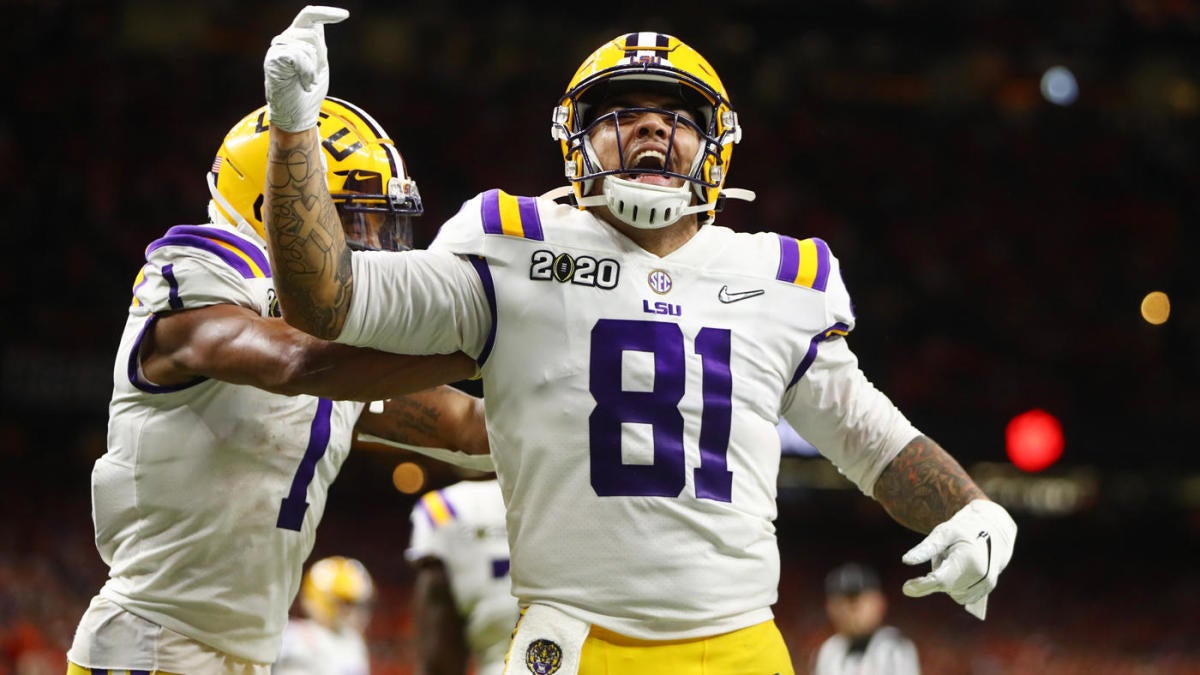 Thaddeus Moss, TE, UDFA, Washington Redskins
The player in college: Started in three games at tight end for the North Carolina Wolfpack, finishing his rookie season with six catches for 49 yards and a touchdown. Moss was then made to sit out the 2017 season due to NCAA transfer rules and redshirted in 2018. In 2019, Moss had the best season for a tight end in the history of the LSU Tigers being an effective blocker and a pass-catching threat meant he was on the field every down. He finished the year with 45 catches for 570 yards and four TDs.
Analysis: While he might have the Moss namesake, he doesn't have his dad's athleticism. Linebackers don't have much trouble covering him and he won't be a YAC monster. He does have reliable hands and is able to control his body to make some exceptional catches. Moss will be a huge asset blocking as he is a consistent worker and has great technique to be a mover in the run game.
His future in the NFL: Moss could move around a few teams because of his blocking ability and name recognition. He could be a great second option for a team who already has a receiving threat at the position.
Breiden Fehoko, DL, UDFA, Los Angeles Chargers
The player in college: Fehoko was a fantastic defensive tackle for Texas Tech in 2015 and 2016, earning Academic All-Big 12 second-team honours and was a preseason candidate for the Polynesian Player of the Year. He then transferred to LSU and had to sit out the 2017 season due to NCAA rules. When he got on the field for the Tigers he started eight games before missing the final four due to injury, finishing the year with 16 tackles, three tackles for loss and two sacks. He was a veteran leader on the defensive line in 2019 and played in all 15 games with four starts. Credited with 17 tackles, six tackles for loss and a half-sack.
Analysis: Known as a good teammate and leader with good power, delivering strong initial strikes. Plays with a low pad level and finds gaps when he's allowed to move around a little. His production was very low with the LSU Tigers which is worrying and he can get turned around very easily. He is purely a run stopper, little to no pass rush value.
His future in the NFL: He had success early in his college career but is probably a long shot to make the roster of this loaded Chargers team. Could be a practice squad player.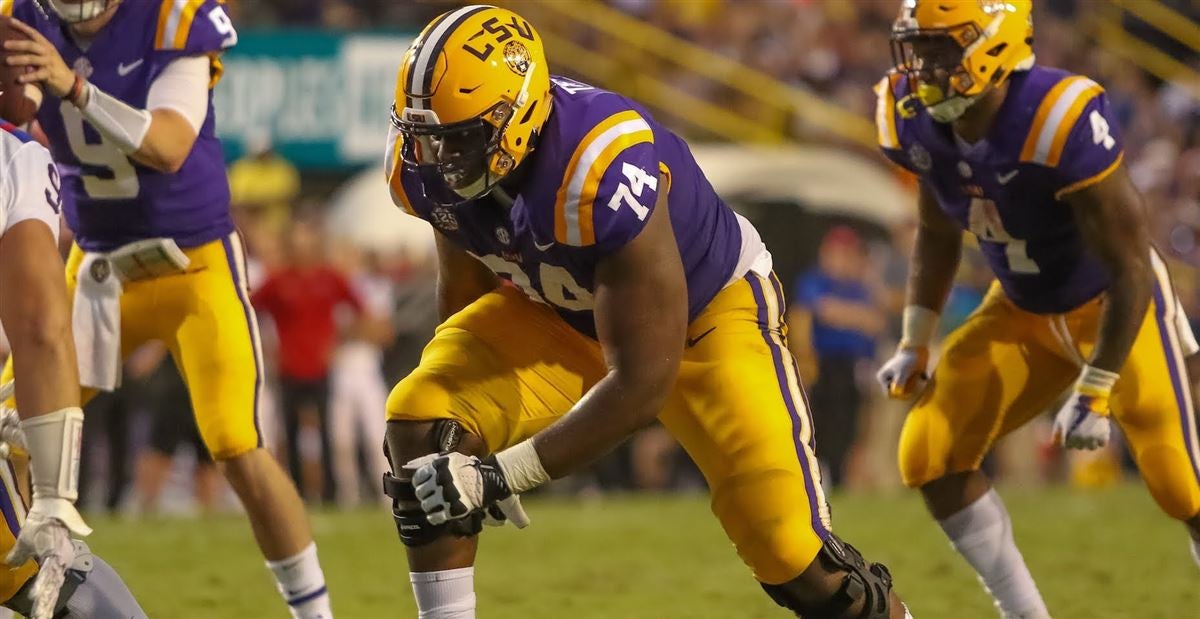 Badara Traore, OL, UDFA, Chicago Bears
The player in college: Played two years for ASA College in New York before coming to LSU as a junior. He played in 13 games with two starts and saw action at both tackle spots. In 2019, his senior season, he was the backup but did start at both right and left tackle throughout the season when needed.
His future in the NFL: Will be lucky to make the end of an NFL roster or even the practice squad. He should see extensive work in training camp to get a proper look at him but nothing special.
Derrick Dillon, WR, UDFA, New York Giants
The player in college: Redshirting in 2015 and recording no offensive stats in 2016, Dillon's college career got off to a very slow start. After his sophomore and junior seasons, Dillon still had just 36 catches for 432 yards and a pair of TDs. The New Giants receiver had 15 catches for 202 yards and two TDs to finish his college career with the LSU Tigers.
His future in the NFL: Could see some work in training camp with a fairly thin depth chart and maybe see the end of the roster. Good practice squad addition for the Giants.
Michael Divinity, LB, UDFA, Tampa Bay Buccaneers
The player in college: Divinity played as a true freshman in 2016 and made his first start in 2017. As a junior, Divinity started 11 games and finished with 54 tackles with nine tackles for loss, five sacks, eight quarterback hurries, one interception, one forced fumble and two fumble recoveries. Divinity served a two-game suspension, missed a game with an injury, and then had a six-game suspension for another violation of team and university rules regarding marijuana use. He was cleared to play in the National Championship Game. During his senior season, Divinity finished with 23 tackles including four for loss and three sacks.
Analysis: Flagged for multiple failed drug tests in his time in college. He's played on the line and off the ball so there is some versatility while he plays physical enough to win in the run game. Has an incredible spin move but his lack of a true position shows, and he often looks lost. Shouldn't be trusted in coverage due to his length and range limitations.
His future in the NFL: Could play a few snaps on first and second-down but he won't be of interest to many teams if he doesn't do well with the Bucs.
Adrian Magee, OL, UDFA, New Orleans Saints
The player in college: Redshirted in 2015 and 2016 before seeing some action in all 11 games in 2017 with a start at right tackle. In his junior season, he played 240 total snaps starting four times at three different offensive line spots. Finally, in 2019, Magee started all 15 games for the LSU Tigers, mainly playing at left guard with a couple of games at left tackle. He secured Second-Team All-SEC honours.
Analysis: Has great power being able to blow players off the line of scrimmage but he relies on that and doesn't have great technique. His lack of flexibility and mobility will come up often and while he does have the power that pops off the tape, he can't execute the blocks NFL teams will ask him to make at the second level.
His future in the NFL: If the Saints can coach him up as a sixth lineman I wouldn't be surprised and then a team might want to overpay him as a backup.
Head coach Ed Orgeron now has many star players to replace for this upcoming season, if there is one. However, with every player going on to find a team to play for in the NFL he shouldn't need to try and recruit players too hard to play for the LSU Tigers. Whatever the future holds for these young players, they were part of a special team and a special draft class that will go down in history.
Didn't read part one? You can catch up here!
Read all our other pieces with Gridiron Pulse and Gridiron Blogs!
---
---