Talking Titans and Tigers with NFL Reporter Crissy Froyd!
Crissy Froyd is a reporter and writer for USA Today where she mainly covers the LSU Tigers and the Tennessee Titans! We had a Zoom interview with her to get a feeling for the teams and the NFL in 2020!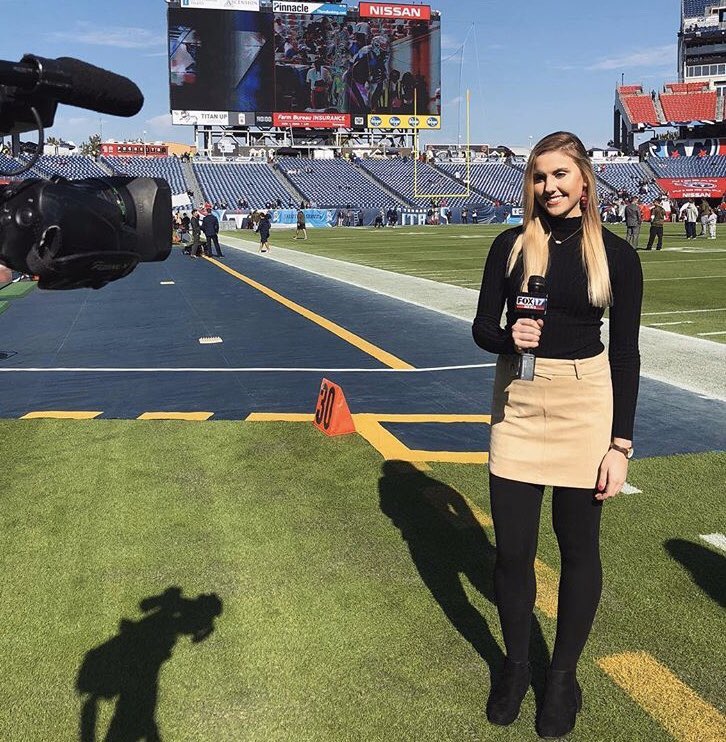 As the NFL season draws closer we thought it was about time we caught up with someone more in the know than us. Last season, the LSU Tigers went undefeated and had one of the best college football seasons of all time. In the same year, the Tennessee Titans benched their former first-round quarterback in favour of the oft-injured journeyman Ryan Tannehill and forced their way into the playoffs on the back of Derrick Henry.
Covering both these teams and their success throughout the year was 21-year-old USA Today reporter, and current LSU student, Crissy Froyd. If you're interested in high-quality writing following the Titans or the Tigers then you should definitely have a read of Crissy's work at the links above. We set up a Zoom call with Crissy to get her insight into what the Titans might be this season, how the Tigers will fare after their talent exodus and her thoughts on the NFL and THAT Washington Post story!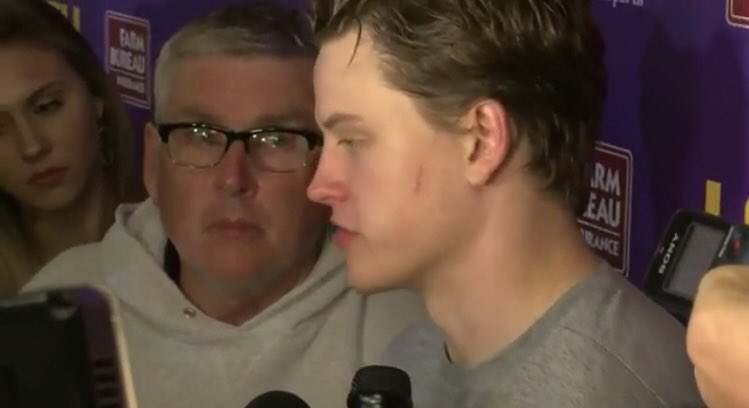 Tannehill comes over from the Dolphins and lights it up in 2019, do we see the same again this season or does he regress back to the mean?
"I think we'll see a lot of the same. Tannehill did a lot with a stable enough supporting cast but surely the Titans supporting cast isn't as strong as others across the NFL. Part of me thinks that Tannehill has really found his system and he'll continue to grow and do well in Tennessee. He did well in a lot of metrics last year and obviously won the NFL comeback player of the year. He did a good job, I mean he righted the ship, everything really seemed to be falling into place after he took the reigns from Mariota. I've written this several times, Tannehill's inconsistency in Miami does concern and every once in a while a player will have a fluke season, do really well and then go back to their old ways. The Titans, in general, are no stranger to inconsistency. I would like to think that Tannehill does stay strong and that he has finally found his fit. There are just some quarterbacks who can't function to their highest potential until they find that one system and Tennessee could be it. But I'm kind of betting on we see some regression eventually."
Do you have any major sleeper players on the Titans we should look out for? I myself really like the look of Jeffery Simmons in 2020!
"I think Jeffery Simmons made a quicker recovery than everything thought he would and he started coming into his own much earlier than anyone thought he would. I think this is gonna be a breakout year for him. The other thing to watch is that Titans tight end room, all of them, I view as quietly effective. I don't think any of them have reached their ceiling or tapped their full potential, I think that Jonnu Smith is a player that has consistently gotten better and will only continue to get better. Anthony Firkser is a guy that really comes in clutch in situations and I think that he could continue to do some stuff like that. Michael Pruitt as well so I've really got my eye on their tight ends room moving into this season."
While I'm high on the Titans offence, what does worry me about the Titans is their secondary. How do you feel about them in 2020?
I think that they've got some good players in there. Malcolm Butler's a player who has been up and down. Actually, when I went to cover the Titans and Patriots game back in 2018, I asked Tom Brady about Malcolm Butler because he was really struggling. He said that he thought he'd be okay, that he was a good player to go up against in practice and that he thought he was going to come into his own eventually in Tennessee. Then it's funny because I joked that he had the crystal ball because it was right after that when Butler started playing well. They also have Kristian Fulton now and that's a player who I've covered and talked to at LSU since I've been here and covered the team. I think he can do a lot for them as well."
I mentioned I was jealous she got to ask Tom Brady a question and she told me about the experience:
It was at a press conference. Yeah, it was pretty intimidating when you're 18-years-old, I thought that I had my feet under me and I'd gotten pretty used to this whole scene. But, it's weird though that when you're that young and you look someone in the eye that was a household name as you were growing up.
What did you like about the Titans offseason?
"The Titans made some really good draft picks, I was kind of concerned with the drafting of that offensive lineman out of Georgia, Isaiah Wilson. I didn't think Fulton was going to fall and with Logan Ryan leaving I thought that they needed a strong member to add to the secondary. But of course, Jon Robinson played his cards right and he goes and gets Krsitian Fulton in the second round. I think they've done well with that and I like the Darrington Evans pick, curious to see what he's going to do now that Derrick Henry has someone a little bit better behind him. I think I'd grade their draft with an A, they made some good picks. You look at this team and it finally feels like they have the right direction and everything in place that they need to have. the question is can they put it all together and remain consistent? We've seen the Titans put it all together so many times but it seems to only last in spurts, never seeming to go all the way. Mariota lost his magic with Tannehill taking over but I'm curious to see what he does with the Raiders and how that all plays out with Derek Carr."
What can we expect from LSU in the 2020 season?

"If I'm being realistic, I expect some major regression. Maybe not major, they have some good talent that they can return. Guys like Tyler Shelvin who are really going to step up and possibly be a first-round pick. A lot of it is going to fall on the shoulders of Myles Brennan, quite frankly, I mean we've seen a little bit from him but we haven't seen a lot and I have seen really good and really bad moments. Overall, what I've seen from him is a quarterback who looks rattled with some decision-making problems. Of course, that comes with growing and learning under another quarterback and not having played a whole lot. But you have to wonder, especially under these current circumstances preparing for the season, just how ready he truly is, he's been patient, had a hell of a mentor in Joe Burrow and so I'm curious to see how well he can do. He'll be alright, but I'm absolutely not sold on him the same way that some people are."

Have LSU done enough with recruitment and do they have enough depth after the mass exodus of starters to the NFL?

"LSU lost a lot of talent, they had fourteen players selected in the draft which was a record. They lost a lot of coaches and assistants after the big win over Clemson and the National Championship but this is a team with some depth to it, although there's a lot of question marks surrounding that depth. Depending on how the players do and how they live up to their potential it could end up being a another really good team. They obviously set the bar super high, historically high, in 2019. I don't think they'll touch it and no one expects them to, but LSU has been rolling in recruiting even with all the stuff that is going on. The big thing to watch in the future, this is now a school that quarterbacks want to go to after they saw what Burrow did and see that it's possible at LSU to have an extremely successful season. I started my career solely focused on LSU quarterbacks and people kind of laughed and said why would you want to do that when there isn't a lot of excitement with really average players and they don't go on to the NFL with great careers. Burrow was a godsend for me with what he did, proving you can have an extremely successful season at LSU. I think that LSU sees a rise in quarterback play in the coming years because of that."

How was it covering the LSU Tigers during their undefeated season?

"That was my second season on the ground here, I covered LSU remotely for a few years before that as well. I mean it was weird because in the beginning you just felt it, you felt that they were ready to go all the way and then after we got about midway through the season it began to look very very possible. You started showing up to every game thinking the Tigers are going to win this one. Alabama scared me for the tigers just because the rivalry is so historic, it's such a tough matchup and Alabama always finds a way to pull it out. About half way through the game you could feel the momentum that LSU had and I can't say I've ever covered a particular player or team at any level and having the confidence or sureness that they are going to win it all that I did there."

Back to the NFL, what's your best guess as to how the season might play out with the ongoing pandemic?

"A lot of us don't really know, I don't have any particular inside information about what the NFL is going to do. From what I've seen the NFL doing and having discussions with the Players Association, it seems like things were really up in the air and now they are starting to come down with a little bit more stability and a plan in place. I don't think the NFL used the time they had to really be prepared for this and they should have been more stable at this point in terms of planning. It seems like they have everything together for a full season but this whole situation has been rapidly changing and I'm a bit concerned for making it through a whole season and how many of these quick overnight changes that we see as this goes on. I think the league is doing it's best to plan, along with all the other leagues. The NBA has done an exceptional job. I think there will be some bumps in the road, I hope not, but this whole thing has been crazy."

What were your thoughts on the Washington Post story exposing sexual harassment?

"Honestly, I'm happy that it came out and it resonated with a lot of people. But I am not kidding you when I tell you that it is not surprising. I have gone through a lot of this same stuff, a lot of similar stuff. I had my case with harassment that went on, I've made a statement about it because I wanted to stop hearing about it and it blew up and became a big thing. I thought okay this is a cause I can adopt, this is a cause that I feel strongly about, even more strongly about it now that it has happened to me, and I fully understand the toll of it. It's easy to say 'Oh just brush it off' 'Oh just don't worry about them, those are just anonymous people behind a screen.' While all that is true, whenever you see people nitpicking you and posting pictures of you and saying things specifically about you, it kind of starts to resonate because it's like wow they are attacking me and they are doing it very very harshly. I don't want to say it makes you second guess yourself, but you start to think 'Do I really look like that?' or 'Is there any validity or anything about me that would make them think that?' I'm happy that a lot of people are starting to catch onto it and it seems like there is enough of an uproar to bring about change but I just hope that it stays that steady because the internet moves fast and a lot of people want to get fired up about something and then just leave it behind."

Finally, do you have any tips for aspiring sports writers or for women wanting to get into the sports world?

"I think what it comes down to is aggression, a healthy form of aggression, and then working your tail off. There is a lot of people who are my age or a little older than me and they are like 'How did you do this', 'How are you capable of working for this network and that network'. Or 'How are you paying your bills as a journalist since you were 18 years old' because that's when I became full time in this industry with all my revenue coming from it. I'm no different than anyone else I put a lot of work and a lot of time in to know what I'm talking about and be knowledgeable about the things that people expect me to know. I think where the road splits off is where some people kind of think something sounds fun and don't devote time to it just hoping it falls into place. Then there are people who make sacrifices and give up a lot of things that college kids might do so they can get ahead. Some people feel like they haven't made it to a certain level so can't reach out to this person for an interview but you'd be surprised how many people will say yes."

Crissy very kindly gave me some time in her very busy schedule so go and check out her Twitter (@crissy_froyd) and USA Today pieces on both the Tigers and Titans!