James Platt's Top 5 Players At Each Position For Fantasy Football 2019
Each position will have a surprise or two in the top-5 as always but below are my top-5 at each position for who I think will finish 2019 with the most fantasy points!
Quarterback
Andrew Luck
Patrick Mahomes
Baker Mayfield
Deshaun Watson
Matt Ryan
Luck had a great season back after extended time off and has more weapons to continue what should be a dominant few years for the Colts under Frank Reich. Mahomes will regress in 2019 but not so much as to fall further than being the 2nd best fantasy QB in the league. Mayfield broke the rookie TD record and will only find more success with OBJ catching passes and running them in for long scores. If Watson's O-line can give him half a second longer then we will see a truly dominant season from the Texans offense. We've seen MVP form from Matt Ryan before, I think we see it again in 2019 in Dirk Koetters first year as offensive coordinator.
Running back
Saquon Barkley
Alvin Kamara
Christian McCaffrey
Nick Chubb
Joe Mixon
Barkley showed he was the star worthy of a 2nd overall pick and should be the player the offense is centred around in 2019. Kamara will score 2-3 TDs in any given week and make your opposition unnerved if they're ahead and Kamara has yet to play. McCaffrey will be a centre point in the Carolina offense as the receivers are all inexperienced, he will receive more opportunity than all of them combined. Chubb will take the next step with Mayfield and keep Kareem Hunt on the bench when his suspension is over. Joe Mixon is one of the best running backs that no one is talking about and he could be in the mix for the rushing title if everyone else on the offense stays healthy and takes the pressure off him.
Wide Receiver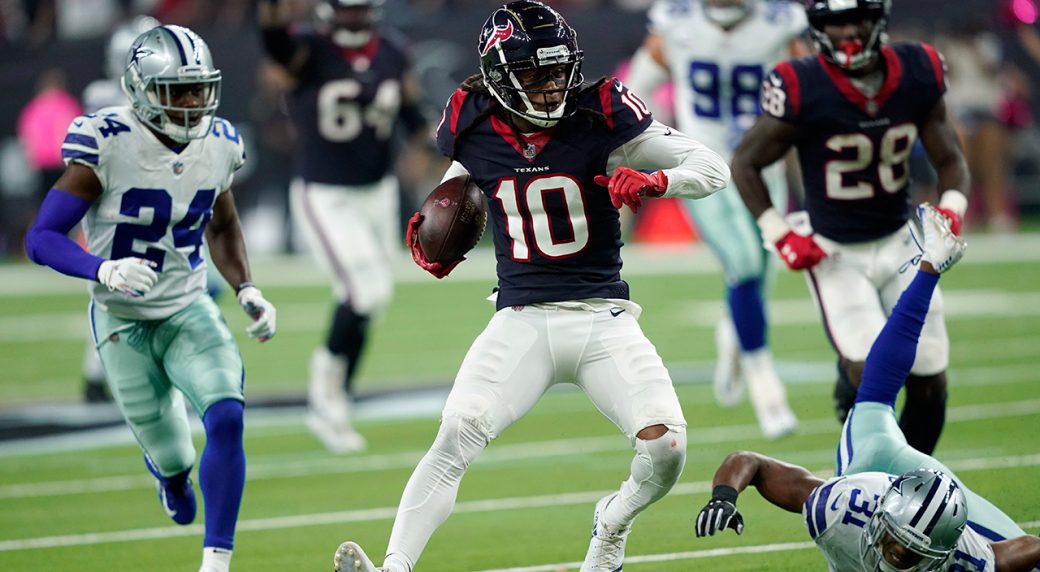 DeAndre Hopkins
Michael Thomas
Adam Thielen
Odell Beckham Jr.
Mike Evans
Will Fuller may take a few targets away but will also draw some coverage, leaving Hopkins in more favourable positions to embarrass opposing cornerbacks with circus catches. Michael Thomas is still the only true threat in the passing game (discounting Kamara) so Brees will force the ball to him as much as possible and he will ellipse 100 receptions once again. Thielen really popped onto the scene last year and had a streak of 100-yard games to rival NFL greats, with a slightly improved O-line, expect Cousins to get the ball to Thielen even more. I might just be hopping on the Browns hype a bit too much but OBJ will be a top-5 pro bowler wherever he is, there's talk about being too many mouths to feed but OBJ is the top dog and he will get the lions share. Perhaps the most underrated receiver in the league, with Arians now coaching in Tampa you can be sure of more consistent QB play and the beneficiary will be Evans with shaky receiver depth behind him.
Tight End
George Kittle
Travis Kelce
Zach Ertz
Hunter Henry
O.J. Howard
With a collection of below average QBs throwing him the ball last season, Kittle was able to demonstrate what a stud he is, Jimmy G is back and looking to prove he can lead the franchise, expect a lot of catches. Whether or not Hill gets suspended, Kelce will be the dominant tight end he is year in, year out. Ertz will team back up with a completely healthy Carson Wentz who has a chip on his shoulder and a scary looking offense. Henry will be back from his ACL tear and I think this is the year he stays fully healthy and becomes regarded as one of the top tight ends in football. Howard has shown flashes of how great he can be and for some reason Fitzpatrick preferred Cameron Brate over him last year, I'm thinking Arians can find ways to scheme him into more opportunities.
Kicker
Justin Tucker
Greg Zuerlein
Adam Vinatieri
Michael Badgley
Stephen Gostkowski
Tucker and Zuerlein are probably the two best kickers in football so they are probably going to be among the top 50+ yard kick scorers because their respective teams have so much confidence in them. Vinatieri is the GOAT and I don't see him dropping off this season with a lot of scoring and offensive movement happening in Indianapolis. Badgley helped me immensely in the postseason last year and I think the Chargers will give him a lot of opportunities to score. Gostkowski is always among the leaders so he needs to be included in the top-5.
Defense/Special Teams
Los Angeles Chargers
Chicago Bears
Los Angeles Rams
Minnesota Vikings
Dallas Cowboys
The Chargers have playmakers all over the defence and they will be looking for revenge after being embarrassed in the playoffs. The Bears were a top unit a year ago and even without Vic Fangio they will still be a ball hawking, hard hitting unit. The Rams gave up a lot of points last season, but they also scored a lot of points, some weeks they will frustrate you but other weeks they will win you the game. The Vikings are very talented all over the defence and will only get better as their younger players mature and now that Anthony Barr is staying put, all their stars are locked up for a while. The Cowboys closed out the season strong and, in the playoffs,, they looked dominant, I think they Demarcus Lawrence helps continue that momentum in the 2019 season.