BEGINNERS GUIDE TO NFL CONTRACTS AND THE SALARY CAP
Star players make big money and the contracts these players sign can be extremely difficult to understand for the average NFL fan. This article is going to breakdown NFL contracts from some of your favourite players and explain them!
Salary Cap
The NFL is the largest major sporting league in North America and it brings in over $14 billion annually. There are huge costs associated with running such a league and the owners obviously want their cut. The amount the players get is 48.5% of revenues, this year just over $6 billion collectively or each team roughly $188.2 million, this has been rising steadily by roughly $10 million per team annually. A team cannot be over the salary cap or there are big penalties involved, so strict management of the cap is imperative for continued success of an organisation.
Rookie Contracts
In the current collective bargaining agreement (CBA), an agreement between the league and the players determining things such as playing time and revenue split, rookies have almost predetermined contracts. This was theoretically supposed to mean more money for veteran players, but it just meant that rookies were cheaper to keep around, further pushing more expensive, aging veterans out the door.
Back in 2010 when the old CBA was in effect, rookies still got huge contracts. No. 1 overall pick Sam Bradford got a 6-year $78 million contract from the St Louis Rams and he hadn't taken a snap in the league yet. The next year, under the new CBA, 2011 No. 1 overall pick Cam Newton got a predetermined 4-year $22 million contract with Carolina, over $50 million less!
All draft picks sign a 4-year contract and for the most part they are pre-set, mostly to avoid rookie holdouts, although agents can mess around with some of the guaranteed money language. Looking at some of the Cardinals 2019 draft picks:
Kyler Murray____________________________________________4 years, $35,158,645
Byron Murphy__________________________________________ 4 years, $7,989,498
Andy Isabella____________________________________________4 years, $4,629,876
Zach Allen_______________________________________________4 years, $4,293,762
Hakeem Butler__________________________________________4 years, $3,324,499
Deionte Thompson_____________________________________4 years, $2,868, 832
The difference in salary, just between Murray and Murphy, first and second round picks respectively is huge. Now Murray's contract is significantly more than Newtons 8 years ago and that is because of the rising salary cap. First round picks also have a 5th year option in their contracts that allow the team to lock them down for another year at below market value and it is becoming a hot topic that the players don't like. The team must decide whether to pick up the option after the players third year, and the salary depends on where the player was drafted. A top-10 pick will get the average of the top-10 player salaries at his position. Picks 11-32 will get an average of the 3rd to 25th highest salaries at their position.
The last thing about rookie contracts to know is how they are restricted in the cap. Each team is allotted a certain amount of money it can give to rookies, known as the rookie pool, this is determined based on each team's position and number of draft picks, for example the Raiders had a pool of $13,698,199.
Veteran Contracts
Contracts for players who have passed their rookie deals can get extremely complicated. Here's a breakdown of what can be put into a contract.
Salary- This is simply the amount that a player is paid for the year. A player can sign a 3-year, $15 million but the team can spread the salary out in different ways to mitigate the impact on the salary cap, maybe paying $8 million in year one and just $3.5 million the last two years of the contract.
Guaranteed money- This can get complicated so in the most basic form, the fuller guarantees are in the contract, the more secure the player is. It can also lead to strange wording, things like a 3-year contract $5 million salary with $10 million guaranteed. This means that the deal is worth a maximum of $15 million dollars but only has the first 2 years guaranteed and after that can be cut with no cost.
A lot of contracts have the first 2 years almost fully guaranteed and then on longer term deals a portion of the third year will be guaranteed. This doesn't include quarterbacks that get a lot higher guaranteed money, just look at Kirk Cousins fully guaranteed $87 million contract! Some contracts allow more guaranteed money to be installed if a player is on the roster, by say the start of the third league year, this helps to satisfy the players worries. Now there is injury guarantees but they are a different animal and not interesting, so I won't get into it.
Options- This is when a team isn't so sure on a player and isn't comfortable taking too big of a risk. So, if an option is in a contract it allows a team to decide whether they want to keep a player and if they don't they can just decline the option without penalty. Now, you may ask why would any player sign this? Well it's a combination of players betting on themselves, the NFL has some big egos, and the fact that these salaries can be higher than you would otherwise expect.
Looking at Nigel Bradham's contract that he signed with Philadelphia last offseason, on the surface it's a 5-year, $40 million deal. If you look deeper then it's a 2-year, $14 million deal with 3 team option years. On average, $9 million a year is a good deal for Bradham, so he was probably betting on himself that he could live up to or overperform this contract.
Signing bonus- These bonuses are gully guaranteed and can be the downfall of many salary caps. They are spread across a contract evenly, for example:
Contract: 4 years, $50,000,000, $22,000,000 signing bonus
Year 1: $8,000,000 salary + $4,500,000 signing bonus
Year 2: $11,000,000 salary + $4,500,000 signing bonus
Year 3: $5,000,000 salary + $4,500,000 signing bonus
Year 4: $4,000,000 salary + $4,500,000 signing bonus
Signing bonuses are also one of the most common things that get restructured in contracts. Teams can take a portion of a player's yearly salary and convert it to a signing bonus, meaning the player gets it immediately, but that portion now gets spread out over the remainder of the players deal, thus creating immediate cap relief. However, this pushes money down the line and if you look at the Saints a few seasons ago you can see the problem this can cause.
Incentives-There is probably an unlimited amount of different incentives that a team could write into a contract. A quick rundown of each:
Roster incentives- Lots of contracts have these and they are to protect the team if a player gets injured and is just accumulating money while on the bench. Its usually that the player must be on the game day roster or starting that game to receive the money and its usually each week, so they will get, for example $75k per game they are active.
Performance incentives- These can get very creative and will change with each position. Players can earn millions of extra dollars for certain numbers of sacks, catches, rushing yards or whatever stat the team wants out of them.
Weight incentives- Some players have trouble keeping their weight under control, an example would be Dontari Poe. In pretty much every contract he now signs, there is a weight clause that he must be below a certain weight by a certain date and these bonuses are in the hundreds of thousands.
Workout incentives- These incentives encourage players to come into the facility and work hard during the offseason. A lot of players try adamantly not to have these in their contracts as they prefer to workout elsewhere or have a little more time off after the season.
Winning incentives- These incentives are based around a number of wins or if the team makes it so far in the playoffs. Mostly they are used for the playoffs and are usually quite substantial numbers. Weddle had $1 million riding on whether the team made it to the playoffs. It ensures that the players have a team first mindset.

Individual accolade incentives- Usually for these, the player must either go to the pro bowl or make one of the all-pro teams. This is more the players betting on themselves in a big way and its good for the teams because the more all-pros on your squad the better.
Franchise Tags And Restricted Free Agency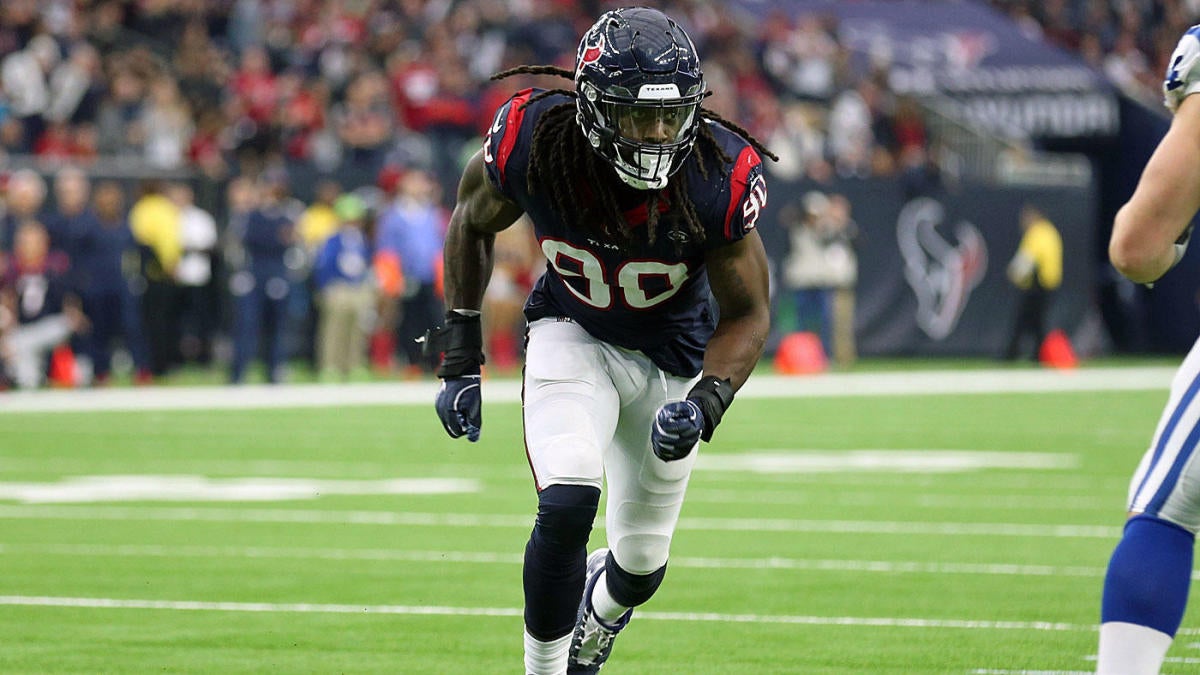 Don't worry if you're favourite players contract is expiring and they don't have a handy 5th year option that the franchise can pick up, the owners have thought of everything to tie down star players. The franchise tag can be used on one player per team per year and it fully guarantees the player an average of the to-5 salaries at their respective position. This can get bloody sometimes as players have been excited to cash in during free agency but have to settle for a one year deal and risk getting injured and these tags lead to a lot of holdouts or trades (See: Dee Ford and Frank Clark.)

It can also lead to players disputing their position such as Jimmy Graham claiming he was a wide receiver as he split out wide more than in-line like a tight end. He did this because the tag for tight ends was a significantly lower than that of wide receivers and the same can be said for many front seven players who are pretty much interchangeable in different formations. The tag can be applied up to three times on the same player, the second time its used its their salary the year before plus 20% and the year after a whopping 44% extra.

Restricted free agency can get tricky because there are a lot of different scenarios. In the NFL you can only enter unrestricted free agency and cash in, if you have four accrued seasons. So if you are cut from your original club before the end of your rookie contract, traded in that time or your simply an undrafted free agent (UDFA) then you are forced into restricted free agency. If it's an UDFA, then at the end of the 3-year deal the franchise can choose a level of tender to place on the player and the tenders are categorised by draft rounds and the higher the round the higher the pay. If another team wants to poach that player then the original team will receive that draft pick as compensation. If you have been traded or cut then the new team will decide what tender, if any, the player will receive and until the player accrues four seasons they are stuck in restricted free agency (Pray for Josh Gordon.)
Example Contracts
Now that we've gone over what goes into a contract lets go over a few NFL stars numbers and what they mean!
Russell Wilson
The quarterback of the Seahawks had a year remaining on his former deal making his new 4-year, $140 million deal into a 5-year, $163.2 million pact. There is a no trade clause, so he won't be going anywhere. $70 million was fully guaranteed at signing. There is $10 million worth of bonuses if he's still on the roster, which he will be, in the final two years of his contract. Interestingly there is a $6 million escalator after 2021 based on unspecified performance incentives that would boost his base salary by that much.
Antonio Brown
When Brown (AKA Mr Big Chest) got traded to Oakland he was seeking a brand-new deal and to be paid like the best receiver in the NFL. The Raiders gave in and rolled in the money trucks with $50.125 million over 3 years. They gave him $30.125 million guaranteed, so the entire first 2 years. In 2020 and 2021 he will receive $156, 250 per game that he is on the active roster equalling $2.5 million per each season. After 2020 if Brown isn't performing then Oakland can cut him for just $300k. Don't forget that Pittsburgh is paying him over $20 million this year to not play for them.
Aaron Donald
The star defensive tackle for the Rams had to hold out to secure this monster deal of 6 years, $135 million, just as Khalil Mack was also angling for the largest deal for a defensive player in NFL history. He still had his 5th year option to go when this deal extended him by a further 6 years. He got $50 million fully guaranteed with $40 million as a signing bonus, which means only his first 2 years out of 7 years is guaranteed. However, his 2020 and 2021 salaries become fully guaranteed in the first few days of their respective league years. There are also $5 million roster bonuses paid in the last 3 years of the deal. As can be seen, even for a star defensive player the deals aren't as guaranteed or nicely presented as star offensive players.
Landon Collins
After a general depression of the safety market over the past few seasons, Landon Collins came roaring into the first day of free agency with a 6-year $84 million contract but only a $15 million signing bonus, again showing the harsh reality for defensive players. Along with his signing bonus he has the first 2 years of his salary guaranteed and his 2021 salary is guaranteed on the 5th day of that league year. The options all come into effect at once and they must be decided on after the 2019 season, increasing his yearly salary by $1.2 million. From 2021-2024 he will also receive $31,250 for each game he is active for a maximum of $500k each season.
Dead Money
This complicated part of the NFL salary cap and contracts will get many general managers fired, although with cap rising steadily it's becoming less of a problem. As you can see in the example contracts above the dead money in a contract generally goes down as the contract goes through its life. The dead money is mainly the signing bonus that the player has in their contract. Teams don't tend to release players if they have too much dead money left on their deal as this means they can't use that money for anything else and they don't even have that player on the team.

This offseason we saw two receivers, Odell Beckham Jr. and Antonio Brown traded. This was shocking as Pittsburgh and New York had to eat roughly $20 million in dead money this season, to pull of these trades as when you trade a player their signing bonus prorate as either one full payment this season or split over the next two seasons. As both OBJ and Brown had recently signed new deals they had a lot of guaranteed money left that got prorated and their former teams had to cough up to get rid of them. However, look at this from the Browns perspective and it looks good as they didn't have to give Beckham a huge new deal like the Raiders gave Brown.

The Giants this season, would have paid Beckham $17 million with a base salary and workout bonus plus his yearly $4 million from his $20 million signing bonus. The Browns essentially get one of the best receivers in the game at an annual $4 million discount. Whereas none of this effects Beckham as this is just creative accounting by the NFL to mitigate large contract ripple effect on the entire team.

This is a deep dive into the world of NFL contracts and you could write many articles on the nuances of contracts, language and how it all works, and this was really a brief look into this confusing world. If anyone has any questions, then comment below and I'll do my best to answer!